Trim Roll Former
Introduction
This kind of metal roll forming machine is specially used to rolling and bending metal trims. Like many other sheet metal folding machines, the trim roll former can form metal sheet, strip or coil stock into a continuous cross section. This roll forming process is performed between successive pairs of rolls that increasingly shape it until the desired section is completed. The trim forming machine is made up of feed-in unit, roll forming machine unit, PLC automatic control cabinet and product run-out table. There are 11 to 15 stations in this metal roll forming machine. Available sheet metals are with thickness of 0.3 mm to 0.8 mm. Main power of this machine is 7.5 KW, machine size is about 7.0 m × 1.2 m × 1.5 m. Its forming speed ranges 18 m/min to 30 m/min.
Parameters of Trim Metal Roll Forming Machine

| | |
| --- | --- |
| Model | Trim Roll Forming Machine |
| Number of Stations | 11-15 Stations |
| Thickness | 0.3-0.8 mm |
| Main Power | 7.5 KW |
| Dimensions | About 7.0 m × 1.2 m × 1.5 m |
| Forming Speed | 18-30 m/min |
Picture for Reference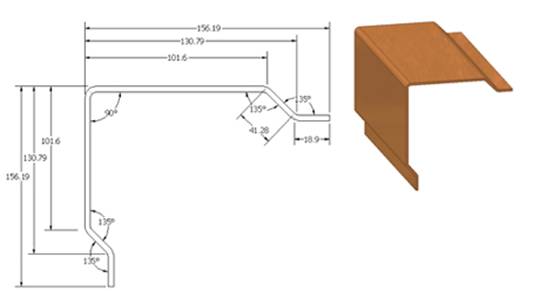 Related Product
Hydraulic Curving MachineHydraulic roof panel curving machines adopt firm welded steel construction as machine frames, so they are rigid in structure and durable. Besides, it is controlled by Panasonic PLC system, which makes operation convenient and reliable. Comprehensively, this roll plate bending machine features by economical cost, simple manipulation and convenient maintenance. We also...