W Valley Machine
Introduction
W valley profile forming machine is used to shape metal sheet into W valley cross-section products. In size of 6000 mm × 800 mm × 1200 mm, this steel panel bending machine is set with 12 standing roller stations. Its working speed is 12 to 18 m/min. Diameter of shaft is 60 mm. This machine applies hydraulic cutting, and its cutting blade is made from Cr12. Available sheet thickness is 0.3 mm to 0.6 mm (normal steel).




Figures for Reference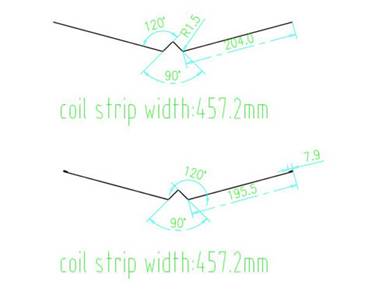 Flowchart of W Valley Profile Forming Machine
De-coiler—Feeding--Roll Forming—Hydraulic Cutting


SUZHOU MANFENGXIANG TECHNOLOGY CO.,LTD. is a professional manufacturer and supplier of valley profile forming machine, cut to length line machine and related metal sheet processing equipments in China. Forming equipment solves the problem of roof leakage that conventional machine is not able to handle with. And these products, including W valley profile forming machines, have passed the certificate for product exemption from quality surveillance inspection.
Related Product
Keel Steel Roll Forming MachineOur steel frame roll forming machine features small machine size, which makes it easy to carry. Its products are widely used in decoration industry. This panel rollforming line has 8 to 12 roll stations. It is with the speed of 15 m/min, the main power of 7 KW and the hydraulic power of 3 KW. Besides, it is controlled by PLC and driven by gears. Available metal sheets...